Thur.12.Mar.2015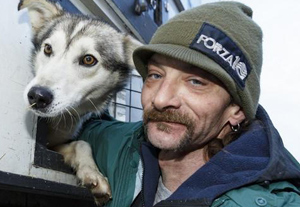 My next adventure starts .. follow my diary .. I am currently in a Hotel very close to the Venezia Airport, in few hours I' ll leave Italy to reach our "Forza 10 Sanypet" Natural Italian Dog Food of Lance Mackey on the 100 miles trail from Anchorage on the Pacific Ocean, Fairbanks to Nome on the Bering Sea to tell and report about the next challenge for Life of this incredible Alaskan Champion and Musher Friend who beyond challenging the natural elements must moreover challenge the cancer which almost made him loose the use of one hand and comes in him like a silent lover.

BE STRONG Lance we are all with you and your awesome Dogs. ALASKA, SLED DOGS .. I LOVE YOU … I do not know what to expect, in my back pack I have my Parka, Bunny Boots and Arctic sleeping bag … I am coming

Thanxxx Dr. Sergio Canello, Dimitri Canello, Grazia Pagan & Rosalinda Gasparetto + Scuola Internazionale Mushing - Sleddog Int'l School SIM Staff Monica D' Eliso, Ali Cja & Azad Khatchikian, Nicole Lilo Corva, Giacomo Cappellaro, Giorgio Scheriau, Zamarian Giorgia, Elisabetta Kandutsch & Pierangelo Patriarca ... our www.ararad.net SUPER webmaster Cinzia Tosatto in Bologna (Italy) ...