Araràd Khatchikiàn in Radio City Trieste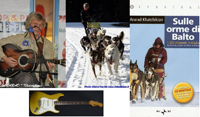 Wednesday 29th august from 10.00 to 11.30 a.m. Italian time, will be very welcome guest / co - conductor of Radio City Trieste and of Triestate Random "Araràd" Khatchikiàn. A special Radio show the one that will be on the air on www.radiocitytrieste.it in which we will retrace with Araràd his life, his passions, his sportive and artistic career. Naturally the soundtrack of the show will be his music…
Araràd will be also co-conductor... in fact the show will be performed in Italian and English languages considering the numerous countries which - thanks to his presence - will be in touch with us. In his Armenian Language his name means " where the Sun rises up " form his ancient language word " ùr ardù " meaning " where the morning comes "… so which could be a better show to be conducted together than the morning one…

In the '80s, beyond playing with his Band "Fairfield", he has been the promoter and organizer of important musical concerts in the cities of Gorizia and Udine for several of his music colleagues (Bruce Cockburn, Pino Daniele, Stanley Clarke & George Duke, Jaco Pastorius Trio, Ironmaiden, Jan Gillan Band, John Martyn, John Renbourn, Bert Jansch, Pentangle, Jorma Kaukonen, Wishbone Ash and several others). In the winter of 1984 visits for the first time the State of ALASKA ( USA ) following his brother Armen who was racing the mythical IDITAROD Sleddog Race ( 1860 Km – 1165 miles - on sleds pulled by dogs from Anchorage to Nome ). Shoots a 16 mm. film - documentary and writes a diary which will be published in Italy by a well known magazine "Oggi". He writes important articles about the Mushing sport on "Natura Oggi", "L" etichetta" by Veronelli, "Capo Horn", " Jonathan Dimensione Avventura "and many others.

Goes back to Alaska both to cover again his brother's IDITAROD Race as organizer for some Italian TV networks and to participate in the most incredible cross country ski competition on Earth ( without dogs ! ): the IDITASKI, a sister race to the Iditarod which covers 350 Km. ( 225 miles ) of the historical Iditarod sleddog trail. The second year he finishes the race in 12th position after 62 hours of almost non stop and sleepless skiing. After these thousand miles sleddog trips with his brother Armen in Alaska (USA) he gets fascinated by those Territories and their People, founds the two first Sleddog - Mushing Italian Schools in Ponte di Legno (BS) and Tarvisio (UD) without ever leaving the world of his music playing his guitar, singing and telling stories about his "white" adventures in music in his concerts, and travelling multimedial shows both as soloist and with his actual Band "Ararad".

Participates with his sleddogs to most of the more important Sleddog - Mushing Races and Challenges, including the IDITAROD, the SERUM RUN, the YUKON QUEST of 1100 miles in Alaska and Canadian Yukon and the 1000 Km. ALPIROD in Europe.

Has been also Responsible for the Mushing Schools and the Promotion and member of the Middle and Long Distance Racing Team in the Italian Federation Musher Sleddog Sport (FIMSS). Is a sleddog-mushing sport Instructor at the International Mushing School in Fusine - Tarvisio (UD) Italy, farmer and guide for winter and summer tours in Alaska, Canadian Yukon, Iceland, Armenia. Books author-writer, he wrote the illustrated book – diary for his 1200 Km trip in Balto' s footprints ( a real challenge of solidarity with Men and Sleddogs ) from Nenana to Nome "Sulle orme di Balto" ("In Balto' s footprints") with a bonus musical cd with his adventure songs in 2005 and the illustrated manual " Sleddog-Mushing in 20 lezioni - lessons" in 2010 for the Italian Tv Publishing Company RAI ERI distributed by Mondadori and several articles on daily, weekly and monthly magazines. He is a Sleddog Mushing Sport consultant for the Italian TVs RAI, SKY SPORT, MEDIASET and several other TV and Paper Media.