SUMMER 2020 Base in Tarvisio (UD) Cortina d' Ampezzo (BL)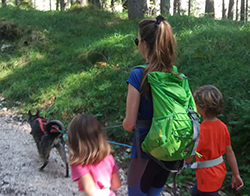 EXPERIENCE NATURE WITH THE DOGS CORTINA D' AMPEZZO
2 hours of experience in the Park of the Dolomities of Ampezzo in the company of affectionate sled Dogs of our School or even with your own dog.


Welcome to the magical world of the "Mushers", the sled dogs drivers at our central base of TARVISIO . The International Mushing School SIM is a Sports Association recognized by the Italian Olympic Committee and the Italian Federation Musher Sleddog Sport. It is a Dog training center authorized by the Veterinary Service of the Friuli Venezia Giulia Region.


download the pdf of Mushers Tarvisio.Pdf
download the Cortina D'ampezzo pdf .Pdf
pdf Mushers in ligua tedesca.Pdf